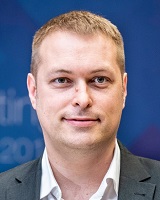 Laurent joined the FIDE Arbiters' Commission as its Chairman at the very end of 2018. Since then, he's been leading the team in charge of the administration and development of the arbiters' sector for the International Chess Federation with the constant motivation to grow the sector and the ultimate goal of improving players' experience in chess tournaments. He is also a Member of the Board of the French Chess Federation where he contributed to the modernisation of the arbiters' sector.
After more than 17 years in the industry as an IT Project Leader and Manager in Business Intelligence, merger/acquisitions and ERP deployment, he chose to dedicate his professional activity to chess. As an International Arbiter, his experience in hundreds of events from local school tournaments to world championships are a guarantee to take into account the variety of situations that arbiters are facing over the world. As a leader, his experience in complex projects requiring good team work and change management should help the commission to step up.
Even a poor mind-map is better than no mind-map at all …

Freely inspired by Mikhail Chigorin's famous quote on plans in a chess game.
Strong believer that a vision and a target are key success factors and great helpers to lead a team to a common goal, you will often find Laurent drawing a process or a mind map, to formalise ideas and challenges rather than jumping to the solution: setting strong foundations which help producing great buildings!
Laurent is fluent in French, English and German.