FIDE Arbiters' Seminar in Guayaquil, ECUADOR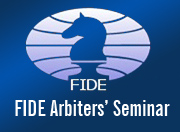 From 9 to 11 June 2014 a FIDE Arbiters' Seminar was organized in Guayaquil, Ecuador, by the Ecuador Chess Federation in cooperation with the Commission for Women's Chess and under the auspices of FIDE.
The lecturer was IA Serafin Chuit Perez (CUB), FIDE Lecturer and Assistant lecturer was IA Dynarin Menendez (ECU).
The lectures were in Spanish language.
48 people from Cuba, Ecuador, Paraguay and Venezuela participated in the Seminar.
All of them participated in the examination test, held after the end of the lectures and the following succeeded in the test and will be awarded a norm for the FIDE Arbiter title and after the approval of the next FIDE Congress:
VICTOR PALACIOS ZAMBRANO ECU
F.I. MARCOS MENÉNDEZ ECU
HERNANDEZ BERMUDEZ, ULISES VEN
JOSE ACHIG BALAREZO ECU
WIM VASQUEZ RAMIREZ ROCIO ECU
GONZALEZ, JOSE LUIS VEN
JOSÉ LUIS QUIZHPE ECU
OSCAR PULLA ECU
IM EMILIO BASTIDAS ECU
DANIEL MIELES ECU
JUAN CARLOS RICAURTE ECU
MIGUEL MUÑOZ ECU
ANGELINE SANTOS SANTILLAN ECU
CRISTIAN BOLAÑOS ECU
DIAZ, GEBER ELOY VEN
ARNALDO VALDEZ CUB
JAIME BASTIDAS ECU
RAMON ECHEVARRIA CUB
IA Panagiotis Nikolopoulos
Chairman
FIDE Arbiters' Commission