FIDE Arbiters' Seminar in Tromso, NORWAY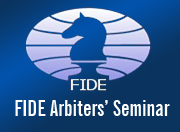 From 3 to 10 August 2014, during the 41th Chess Olympiad, a FIDE Arbiters' Seminar was organized in Tromso, Norway, by the FIDE Arbiters' Commission in cooperation with the Norwegian Chess Federation and under the auspices of FIDE.
The seminar was held in the venue of the Olympiad, in the DVIR Building.
The lecturer was IA Dirk De Ridder (BEL), Secretary of the FIDE Arbiters' Commission and FIDE Lecturer, and Assistant Lecturer was IA Jamie Kenmure (AUS).
The lectures were in English language.
Twenty eight (28) people from Norway, Botswana, Fiji, Ghana, Guam, Guyana, Malawi, Ireland, Pakistan, Palau, Poland, Rwanda, Togo, Zambia, Zimbabwe, Yemen, Mongolia, Georgia and Netherland Antilles participated in the Seminar and twenty two (22) of them participated in the examination test, held after the end of the lectures. The following succeeded in the test and will be awarded a norm or the title of the FIDE Arbiter (according to the article 3.10 of the regulations for the titles of Arbiters), after the approval of the next FIDE Presidential Board:
| | | | |
| --- | --- | --- | --- |
| NAME | FIDE I.D. | FED. | NOTE |
| Tshepiso Lopang | 11300515 | BOT | FA title |
| Vincent Masole | 11300990 | BOT | FA title |
| Yolander Persaud | 19700431 | GUY | FA title |
| Gabriel Mirza | 2503093 | IRL | FA norm |
| Erling Skjelstad | 1508695 | NOR | FA norm |
| Geir Brobakken | 1511270 | NOR | FA norm |
| Oyvind Pedersen | 1501666 | NOR | FA norm |
| Roger Lovaas | 1514237 | NOR | FA norm |
| Shahzad Mirza | 7800088 | PAK | FA title |
| Adam Dzwonkowski | 1110373 | POL | FA norm |
IA Panagiotis Nikolopoulos
Chairman
FIDE Arbiters' Commission