FIDE Arbiters' Seminar in New Delhi, INDIA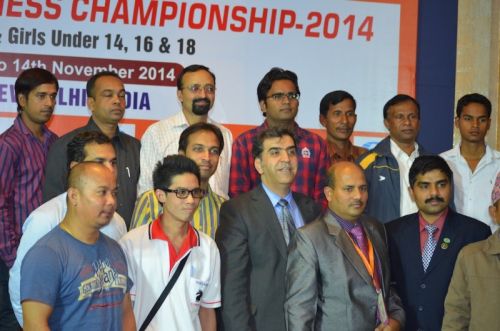 From 11 to 13 November 2014 a FIDE Arbiters' Seminar was organized in New Delhi, India, by the Delhi Chess Association, in cooperation with the All India Chess Federation and under the auspices of FIDE.
The Lecturer was IA Mehrdad Pahlevanzadeh (IRI), FIDE Lecturer.
The lectures were in English language.
Twenty eight (28) National Arbiters from India, Iran, UAE, Bangladesh, Slovenia, Nepal, Pakistan and Thailand participated in the Seminar and in the examination test held after the lectures. The following succeeded in the test and they will be awarded a FIDE Arbiter Norm, after the approval of the next FIDE Presidential Board:
Name

Federation

FIDEID

MahjoobMorteza

Iran

12500798

ParidarShadi

Iran

12500666

HrenicMisa

Slovenia

14605082

NaveenKumar

India

5080819

A

viSingh

India

35005758

MrityunjaySingh

India

25061550

AmitGangwar

India

45050155

PoompongWiwatanadate

Thailand

6201083

PatcharaweeBrahmawong

Thailand

6200265

RajKumar

Sharma

India

45050163

RakeshChandel

India

45050120

DhanBahadur

Bogati

Nepal

12303496

V

ijayKumar

Thapa

Nepal

12306592

DarshanGupta

India

5035767

GauravChhabra

India

45050139

NikleshJain

India

5037921

SandeepSharma

India

45050147

T

arekAl

T

aher

UAE

9304258

ManishJoshi

India

5008840

SunilSoni

India

5087872

NaeemHamid

Mirza

Pakistan

7801084

UpadhyayR

India

5001773

DeepakSaigal

India

5005167

Shahidian,Maryam

Iran

12588210
IA Takis Nikolopoulos
Chairman
FIDE Arbiters' Commission