FIDE ARBITERS' SEMINAR in Las Vegas, USA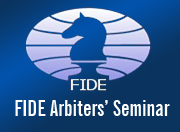 A FIDE Arbiters' Seminar is going to be organized from 16 to 18 June 2015 in Las Vegas, Nevada, USA, by the US Chess Federation and under the auspices of FIDE.
The venue of the Seminar will be the Westgate Resort and Casino Hotel (formerly the Las Vegas Hilton), in Las Vegas, Nevada, 89109 USA.
The Lecturer will be IA Carol Jarecki (IVB), FIDE Lecturer and Assistant Lecturer will be IA Walter Brown (USA).
The language of the Seminar will be English.
The Seminar will give FIDE Arbiter norms and titles, according to the Regulations for the titles of the Arbiters.
For more detailed information:
Alan Losoff: PO Box 90925, Henderson, NV 89002 USA.
Phone: 1-702-510-8882; E-Mail: Alan.Losoff@gmail.com
(see application)