FIDE Arbiters' Seminar in Hammamet, TUNISIA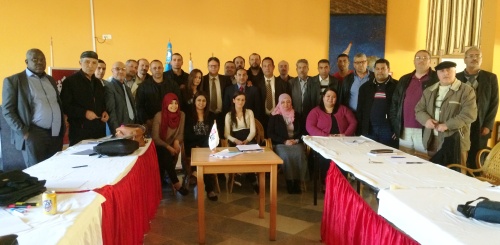 A FIDE Arbiters' Seminar was held in Hammamet, Tunis, from 30th March to 2nd April 2015, organized by the Tunis Chess Federation, in cooperation with Africa Chess Federation and under the auspices of FIDE.
The venue of the Seminar was the African Queen Hotel in Hammamet.
The Lecturer was IA Mahdi Abdulrahim (UAE), FIDE Arbiters' Commission Councillor and FIDE Lecturer and Assistant Lecturer was IA Bechir Al Messaoudi (TUN).
The Language of the Seminar was Arabic with translation in French.
Forty three (43) people from Tunis, Libya, Algeria, and Mali participated in the Seminar and thirty five (35) of them participated in the examination test, held after the end of the lectures.
The following passed the exam and will be awarded a norm for the title of the FIDE Arbiter, after the approval by the next FIDE Presidential Board:
| | | |
| --- | --- | --- |
| Surname | Fed. | Fide- ID |
| Habib AISSAOUI | TUN | 5501229 |
| Hassen YAGOUBI | TUN | 5507170 |
| DIAKITE, Ousmane | MAL | 19800177 |
| Moez BEN AMOR | TUN | 5503531 |
| Ramzi KHADHRAOUI | TUN | 5507189 |
| Fahmi AZAIEZ | TUN | 5500818 |
| Najla KRIFA | TUN | 5501040 |
| Sarra Mheddheb | TUN | 5507197 |
| Mehdi BOUAZIZ | TUN | 5500311 |
| Mosab GHATTOUR | LBA | 1312383 |
| Mosbah HAMDI | TUN | 5507219 |
| Chaher Eddine MILADI | TUN | 5503507 |
| Slim BOUAZIZ | TUN | 5500010 |
| Badis MESSAOUDI | TUN | 5503167 |
| Moncef DEBBICHE | TUN | 5503280 |
| Faleh HIZI | TUN | 5505445 |
| Sami LAOUINI | TUN | 5500290 |
| Hakim Belhadj Hassen | TUN | 5507073 |
| Hichem MAKHLOUF | TUN | 5507227 |
| SOUII Mourad | TUN | 5504082 |
| Kamel NAOUI | TUN | 5507235 |
| Shahenaz Kenza ZIGHEMI | ALG | 7908822 |
| Lotfi KHALGUI | TUN | 5507243 |
| Sofiane ASRI | TUN | 5501776 |
| Hanen BALI | TUN | 5507251 |
| Nabil DOGHRI | TUN | 5500079 |
| Amani MATOUSSI | TUN | 5501156 |
IA Takis Nikolopoulos
Chairman
FIDE Arbiters' Commission