FIDE Arbiters' Seminar in Tashkent, UZBEKISTAN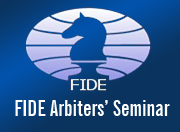 From 18 to21 April 2016 a FIDE Arbiters' Seminar was organized in Tashkent, Uzbekistan, by the Uzbekistan Chess Federation and under the auspices of FIDE.
The lecturer was IA Andrzej Filipowicz (POL), Secretary of the FIDE Technical Commission and FIDE Lecturer, and Assistant lecturer was IA Husan Turdialiev (UZB).
The venue of the Seminar was the Sholdik Palace Hotel, in Tashkent.
The lectures were in Russian language.
Fifteen (15) Arbiters from Uzbekistan, Kazakhstan, Afghanistan and Tajikistan participated in the Seminar. All of them participated in the examination test, held after the end of the lectures and the following succeeded in the test and will be awarded a norm for the FIDE Arbiter title and after the approval of the next FIDE Presidential Board or Congress:
NAME

FED.

FIDE ID

NOTES

Odinaeva, Saodat

TJK

14700255

Tilenbaev,

Cholponbek

KGZ

13803239

Mohibi, Abasin

AFG

11701234

FA tile

Kim, Grigoriy

KAZ

13703986

Okushev, Semeykhan

KAZ

13707450

Fazilov, Khasan

UZB

14210320

Hamrah, Shabnam

AFG

11701331

FA title

Vasbutdinov, Ravil

UZB

14205386

Esonboeva, Gulruhsor

UZB

14202085

Gevorgyan, Irina WIM

UZB

14201437

Baymuratova, Sevara WIM

UZB

14202182

Zaynidinov, Sirojiddin FM

UZB

14201828

Alikulov, Elbek IM

UZB

14203308
IA Takis Nikolopoulos
Chairman
FIDE Arbiters' Commission