FIDE Arbiters' Seminar in Singapore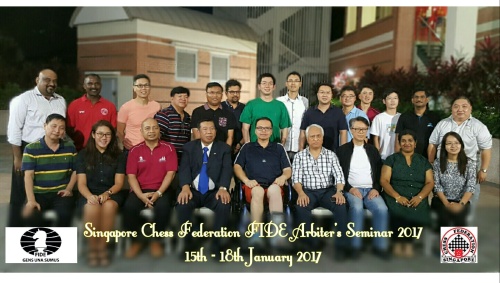 From 15 to 18 January 2017 a FIDE Arbiters' Seminar was organized in Singapore, by the Singapore Chess Federation and under the auspices of FIDE.
The Lecturer was IA Casto Abundo (PHI), Asian Chess Federation Executive Director and FIDE Lecturer, and Assistant Lecturer was IA Kwai Keong Chan (HKG).
The lectures were in the English language.
Eighteen (18) Arbiters from Singapore, Myanmar, India, Philippines, Hong Kong, Chinese Taipei and Macau participated in the Seminar and in the examination test held after the lectures. The following succeeded in the test and they will be awarded a FIDE Arbiter Norm, after the approval of the next FIDE Presidential Board:
N

AME

F

ED

FIDE ID

Nirag Shah

M

IND

25714619

Fam, Jia En Victoria

F

SGP

5803659

Mak, Chin Wah

M

SGP

5822572

Thandar Aye Win

F

MYA

13002864

Polistico, Eliodoro B

M

PHI

5206030

Lai, Robin

M

HKG

6000436

Jagadeesh, Balakrishnan

M

SGP

5817650

Chia, kok Kiang Alex

M

SGP

5823307

Cabe, Arlan

M

PHI

5203627

Yang, Ching Wei, Austin

M

TPE

16300440

Rishi, Kapoor

M

SGP

5822351

Ng, Thai Ee

M

SGP

5823218

Hon, Shin Ming

M

SGP

5825962

Jeganathan, Jerald

M

SGP

5825970

Jayakumar, Vijayamthi

F

SGP

5822980

Parsuvanath Vijayakeerthy

M

SGP

5822882

Ong, Hock Seng

M

SGP

5822963

Ho, Hou-Meng, Herman

M

MAC

16300190
IA Takis Nikolopoulos
Chairman
FIDE Arbiters' Commission