FIDE ARBITERS' SEMINAR in La Habana, CUBA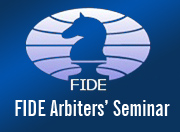 The Cuban Chess Federation is going to organize a FIDE Arbiters' Seminar in La Habana, Cuba, from 11 to 15 May 2011, under the auspices of FIDE.
The Seminar will be held during the "Capablanca Memoriam" International Tournament.
The Lecturer will be IA Serafin Chuit Perez (CUB), FIDE Lecturer, and Assistant Lecturers will be IA Enio Bello (CUB) and IA Jose Maria Martinez (ESP).
The lectures will be in Spanish language.
For more detailed information please contact:
Cuban Chess Federation: odcontreras@inder.cu, riveroc@inder.cu