FIDE Arbiters' Seminar in Bojnice, SLOVAKIA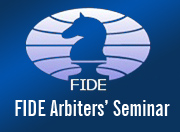 On 22 and 23 January 2011 a FIDE Arbiters' Seminar was organized in Bojnice (200 km from Bratislava), Slovakia, by the Slovak Chess Federation and under auspices of FIDE.
The lecturer was IA Andrzej Filipowicz (POL), Secretary of the FIDE Technical Commission and FIDE Lecturer, and Assistant lecturers were IA Carol Pekar (SVK) and IA Ivan Syrovy (SVK).
33 National Arbiters from four Federations (SVK, CZE, NED and BLR) participated in the seminar.
All of them participated in the examination test, held after the end of the lectures.
The following succeeded in the test and will be awarded a norm for the FIDE Arbiter title, after the approval of the next FIDE Presidential Board:
Name

ID_Num

FED

Briestensky Rastislav
–

SVK

Bulava Petr
316644

CZE

Bury Rastislav
14907585

SVK

Danada Ondrej
14915561

SVK

de Jong Peter
1033514

NED

Diviak Rastislav
14908204

SVK

Dobrotka Martin
14900645

SVK

Durchan Milan
333212

CZE

Geffert Anton
14915731

SVK

Gregor Zdenek
14915766

SVK

Chripko Lubomir
14913461

SVK

Jakus Lubomir
343374

CZE

Jenc Milan
331376

CZE

Juhar Roman
14906147

SVK

Jurcisin Imrich
14901854

SVK

Kopta Jiri
328910

CZE

Kudla Richard
330701

CZE

Lukac Jozef
14917297

SVK

Marek Jiri
326143

CZE

Marko Ondrej
14901072

SVK

Martinec Tomas
327948

CZE

Murin Jan
14911922

SVK

Novak Jiri
312088

CZE

Prokopova Jirina
337994

CZE

Puchart Vladimir
14905205

SVK

Puobis Jozef
14904578

SVK

Rabchonok Gennady
13501500

BLR

Sarmir Milos
14901889

SVK

Sieber Martin
327590

CZE

Simecek Alexej
314161

CZE

Sipeky Ladislav
14916703

SVK

Slavik Miroslav
–

CZE

Zaruba Petr
351725

CZE
IA Panagiotis Nikolopoulos
Chairman
FIDE Arbiters' Commission