FIDE ARBITERS' SEMINAR in Toluca, MEXICO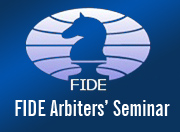 A FIDE Arbiters' Seminar is going to be organized from 25 to 27 of April 2011 in Toluca, Mexico, by the Mexican Chess Federation (FENAMAC), in cooperation with the Confederation for Chess for America and under the auspices of FIDE.
The Lecturer of the seminar will be IA Jorge Vega (GUA), Americas' Continental President and FIDE Lecturer and Assistant Lecturer will be IA Jose Martinez Garcia (MEX).
For detailed information:
Mexican Chess Federation (FENAMAC): http://www.fenamac.org.mex
(see attached announcement).