FIDE ARBITERS' SEMINAR in Taipei (Taiwan)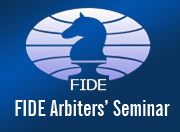 A FIDE Arbiters' Seminar is going to be organized from 13/07/2019 to 17/07/2019 in Taipei, Taiwan, by the Chinese Taipei Chess Association, under the auspices of FIDE.

The venue of the S
eminar will
be
3F.-1, No.58, Minsheng 2nd Rd., Qianjin Dist., Kaohsiung City 80144, Taiwan
.
The Lecturer will be IA Ignatius Leong (SGP), FIDE Lecturer and the Assistant Lecturer will be Jie Ding
(CHN).
The language of the Seminar will be English.

The Seminar will give norms and titles of FIDE Arbiter, according to the Regulations for the titles of Arbiters.

For more detailed information:
Dina Chen – General Secretary
Phone: (886)2-8771-1436 / (886)2-8773-9821