FIDE ARBITERS' SEMINAR in Lazy (Poland)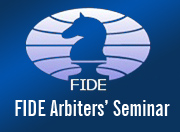 A FIDE Arbiters' Seminar is going to be organized from 01/07/2020 to 05/07/2020 in Lazy, Poland, by the Polish Chess Federation Arbiters' Commission, in cooperation with the Polish Chess Federation and the Regional Federation – Zachodniopomorski Związek Szachowy, under the auspices of FIDE.
The Seminar will take place during the traditional Open tournament "Perla Baltyku".
The venue of the Seminar will be the resort Bryza in Lazy.
The Lecturer will be IA Filipowicz, Andrzej (POL), FIDE Lecturer and the Assistant Lecturer will be IA/IO Matlak, Jacek (POL).
The language of the Seminar will be English or possibly Russian.
The Seminar will give norms and titles of FIDE Arbiter, according to the Regulations for the titles of Arbiters.
For more detailed information:
Zachodniopomorski Związek Szachowy
Tomasz Kamieniecki
Oskar Roslon