FIDE ARBITERS' SEMINAR in Belgrade, Serbia – April/May 2020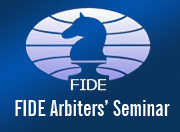 A FIDE Arbiters' Seminar is going to be organized from 21/04/2020 to 10/05/2020 in Belgrade, Serbia, by the Serbia Chess Federation, under the auspices of FIDE.
The venue of the Seminar will be Nusiceva 25/II in Belgrade.
The Lecturer will be IA Branislav Suhartovic (SRB), FIDE Lecturer and the Assistant Lecturer will be IA/IO Nebojsa Baralic (SRB).
The language of the Seminar will be English with translation into Serbian. The seminar will consist in 4 online sessions and 2 days on-site.
The Seminar will give norms and titles of FIDE Arbiter, according to the Regulations for the titles of Arbiters.
For more detailed information:
Branislav Suhartovic
Email: bsuhartovic@gmail.com
(See application)