73rd Internet based FIDE Arbiters' Seminar (OMA) – Report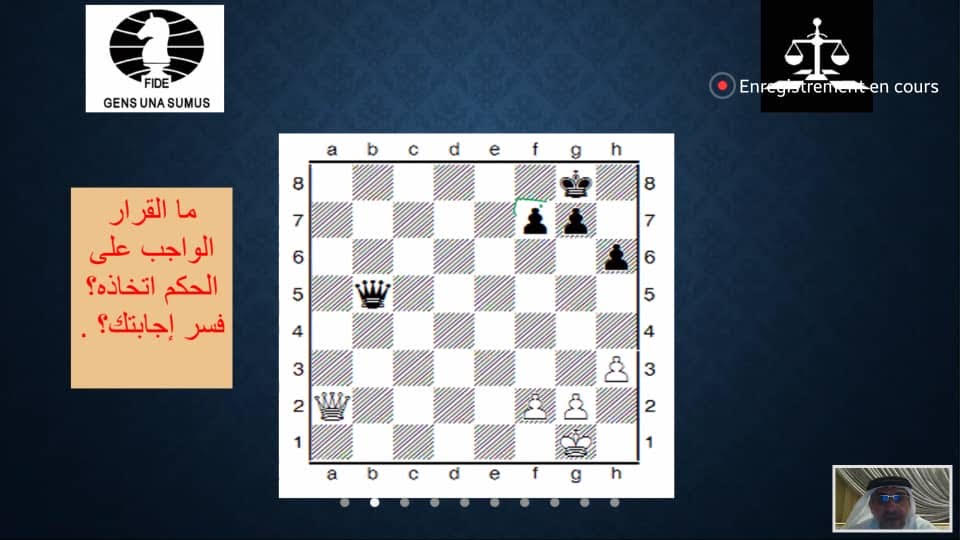 73rd Internet Based FIDE Arbiters' Seminar was held from 16th to 20th April 2020.
It was organized by the Oman Chess Committee and Asia Chess Federation, under the auspices of FIDE.
The Lecturer was IA Abdulrahim, Mahdi (UAE), FIDE Lecturer and the Chairman of the Asian Arbiters Council. The Organizer was Ahmed Al Bulushi (OMA) President of the OMA Chess Committee. Technical Organizer was IA Mihail Prevenios (GRE) and the observer was Mr. Mohammed El Husseiny (EGY), Arbiters Commission Consular.
The Language of the Seminar was in Arabic.
Thirty-seven (37) participants are registered from eleven (11) different federations attend the seminar, there were from ALG, BRN, UAE, OMA, KSA, PLE, IRQ, MAR, PLE, SYR, and EGY. All of them attended the exam. Thirty-four (34) of them passed the examination test with 80%, which was held after the end of the lectures.
The following succeeded in the test and they will be awarded a direct title (OMA) and a norm for the title of the FIDE Arbiter, after the approval of the next FIDE Council: