FIDE ARBITERS' SEMINAR in Chennai, INDIA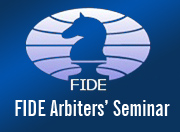 A FIDE Arbiters' Seminar is going to be organized from 6 to 9 January 2012 in Chennai, Tamilnadu, India, by the All India Chess Federation and under the auspices of FIDE.
The Lecturer will be IA Casto Abundo (PHI), Deputy President of the Asian Chess Federation and FIDE Lecturer and Assistant Lecturer will be IA Prof. R. Anatharam (IND).
The language of the Seminar will be English.
For more detailed information:
Mr. Bharat Singh, Hon. Secretary, All India Chess Federation
Phone: +914425382121, Mobile: +919810000007,
e-mail: indianchessfed@gmail.com