FIDE ARBITERS' SEMINAR in Luanda, ANGOLA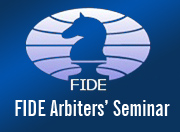 A FIDE Arbiters' Seminar is going to be organized from 20 to 26 April 2012 in Luanda, Angola, by the Angola Chess Federation and under the auspices of FIDE.
The Lecturer will be IA Carlos Dias (POR), FIDE Lecturer and Assistant Lecturer will be Agostinho Adao (ANG).
The language of the Seminar will be Portuguese.
For more detailed information:
Abilio Ribeiro:
abiliojribeiro@gmail.com , phone: 244 923 510 267
244 925 72 59 70
(see application)