FIDE Arbiters' Seminar in Ankara, TURKEY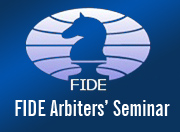 From 8 to 12 February 2011 a FIDE Arbiters' Seminar was organized in Ankara, Turkey, by the Turkish Chess Federation, under auspices of FIDE.
The venue of the Seminar was the Meeting Hall of the Turkish Chess Federation in Ankara.
The lecturer was IA Panagiotis Nikolopoulos (GRE), Chairman of the FIDE Arbiters' Commission and FIDE Lecturer and Assistant lecturers were IA Guran Unal (TUR) and IA Erdem Ucarkus (TUR).
The lectures were in English language with translation in to Turkish language, when it was needed.
93 National Arbiters from Turkey participated in the Seminar
28 of them participated in the examination test, held after the end of the lectures and the following succeeded in the test and will be awarded a norm for the FIDE Arbiter title and after the approval of the next FIDE Presidential Board:
MEHMET SALİM ALPYÜRÜK (TUR)
MELİH ÇİÇEK (TUR)
ÇAĞATAY KORKUÇ (TUR)
ASLAN GOLER (TUR)
ALİ ÖZEN (TUR)
AHMET EMRE GÜVEN (TUR)
İRFAN ÇETİN (TUR)
ÖZGÜR ACAR (TUR)
MUSTAFA EROĞLU (TUR)
MUSTAFA İMAMOĞLU (TUR)
ERDEM KÖSEOĞLU (TUR)
ONUR ALACABA (TUR)
ABİDİN ÜNAL (TUR)
IA Panagiotis Nikolopoulos
Chairman
FIDE Arbiters' Commission