FIDE Arbiters' Seminar in Amman, JORDAN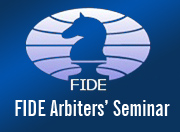 From 24 to 29 March 2012 a FIDE Arbiters' Seminar was organized in Amman, Jordan, by the Asian Chess Federation, in cooperation with Royal Jordanian Chess Federation and under auspices of FIDE.
The lecturers were IA Casto Abundo (PHI), ACF Deputy President and FIDE Lecturer and IA Mehrdad Pahlevanzadeh (IRI), ACF Treasurer and FIDE Lecturer.
The lectures were in English language.
Twenty four (24) Arbiters from Jordan, Syria, Palestine, Singapore and Yemen participated in the Seminar and 23 of them participated in the examination test, held after the end of the lectures. The following succeeded in the test and will be awarded a norm for the title or the FIDE Arbiter, after the approval of the next FIDE Congress:
Hani Albitar (SYR)
Fawwaz, Mansoor (JOR)
Sami Khader (JOR)
Ahmad Mohamad Salem Suod (JOR)
Sultan Dayk Samara (PAL)
Hani Tlaib (PAL)
Lim Nan (SIN)
Aboudi, Marwan (JOR)
Manal Al Hrout (JOR)
IA Panagiotis Nikolopoulos
Chairman
FIDE Arbiters' Commission