FIDE ARBITERS' SEMINAR in Lima, PERU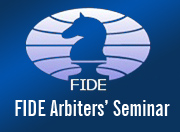 A FIDE Arbiters' Seminar is going to be organized from 24 to 28 July 2012 in Lima, Peru, by the Peru Chess Federation and under the auspices of FIDE.
The Lecturer will be IA Jorge Vega (GUA), Americas Continental President and FIDE Lecturer and Assistant Lecturer will be IA Jose Martinez Garcia (MEX).
The language of the Seminar will be Spanish.
For more detailed information:
Address: Av. Petit Thouars 483 Lima Cercado oficina FDPA
Telephone: 01 7220999
Mobile: 01 992449733
E-mail: info@ajedrezenperu.org, hospedajes@ajedrezenperu.org,
(see application)