ARB Training Programme – Session 02
In September 2019, our Chairman Laurent Freyd presented the vision of the Commission to the FIDE Presidential Board. It included an important block called "ARB Human Resource Management". The idea was to equip the Commission with processes and tools that will help us better understand and manage our community of arbiters worldwide. We are now proud to release a cornerstone of that concept: the ARB Training Portal.
Thanks to the tremendous support of the FIDE IT Manager, Vladimir Kukaev, we could implement an instance of Chamilo, an open source Learning Management System, on a FIDE server. This new system will be extensively used for the current programme, to store course material, interact with participants (homework, Q&A …), follow attendance and even deliver certificates of attendance. All participants of the Training Programme will be onboarded and have a private account which will compile their training experience in the future.
On a wider perspective, the ARB Training Portal will be used to administrate FA Seminars, compile exams and log results. Then, step by step, as the FIDE lecturers are also onboarded and trained, we may actively use the portal for courses and exams as well.
Session 02 took place on the 19-20-21-22 April 2021. The following participants attended, cumulating 52 federations in the programme: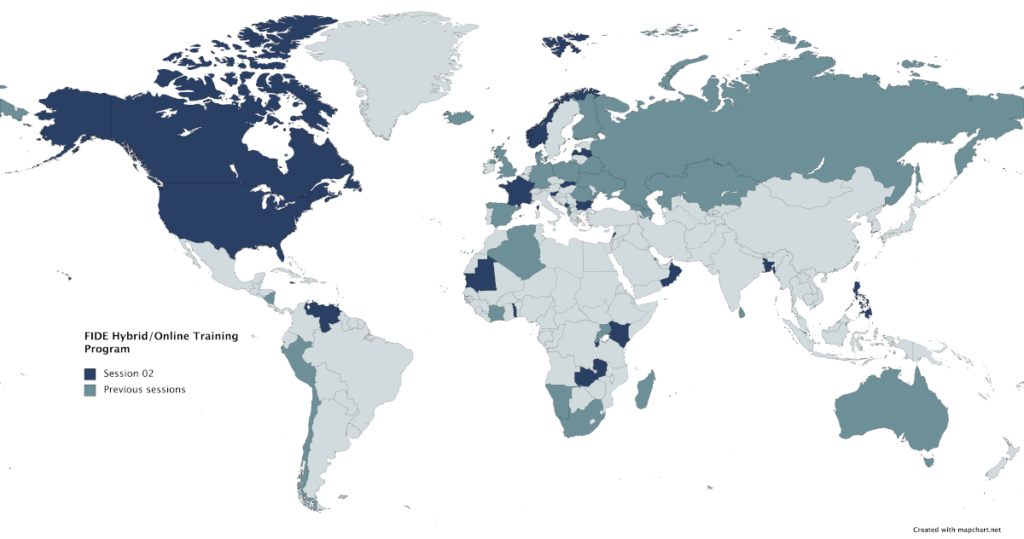 | Title | Arbiter | Federation |
| --- | --- | --- |
| IA | Al Wadhahi Musallam | OMA |
| IA | Birgisdottir, Ingibjorg | ISL |
| IA | Bond, Hal | CAN |
| FA | Boydia, Moulaye | MTN |
| IA | Danada, Tomas | SVK |
| IA | Denommee, Pierre | CAN |
| IA | Diaz, Geber Eloy | VEN |
| NA | Grobbelaar-Oertel, Jacqui | RSA |
| IA | Haskel, Jon | USA |
| FA | Hassan, Nasih | MDV |
| IA | Hernandez Bermudez, Ulises Eduardo | VEN |
| IA | Kurpnieks, Vairis | LAT |
| NA | Lindo, Terence | JAM |
| FA | Maina, Franklin Wanjau | KEN |
| NA | Martin, David | TTO |
| IA | Md Haroon or Rashid | BAN |
| IA | Nsakanya, Chanda | ZAM |
| FA | Ntamatungiro, Wilfried | BDI |
| FA | Okoro, Aderemi Bankole Mubarak | TOG |
| NA | Pagaran, Michael Joseph | PHI |
| IA | Perkovic, Boris | SLO |
| IA | Renard, Stephane | FRA |
| IA | Shamieh, Jamal | LBN |
| IA | Sjol, Henrik | NOR |
| FA | Stefanov, Plamen | BUL |
| FA | Tabudlong, Ronnie M. | PHI |
| IA | Vujacic, Igor | MNE |
| IA | Waithe, Rohan | BAR |