FIDE ARBITERS' SEMINAR in Khartoum, SUDAN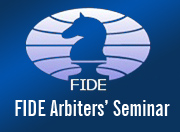 A FIDE Arbiters' Seminar is going to be organized from 22 to 27 March 2013 in Khartoum, Sudan, by the Sudan Chess Federation and under the auspices of FIDE.
The venue of the Seminar will be the Sudan Olympic Committee in Khartoum.
The Lecturer will be IA Hassan Khaled (EGY), FIDE Lecturer.
The language of the Seminar will be Arabic.
For more detailed information:
IA. Hassan Khaled: email: haskh@yahoo.com
Sudan Chess federation: email: sudanchessfed@yahoo.com
(see application)