FIDE Arbiters' Seminar in PANAMA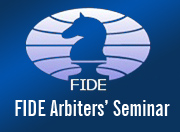 From 30 October to 5 November 2013 a FIDE Arbiters' Seminar was organized in Panama, by the Panama Chess Federation, in cooperation with the Commission for Women's Chess and under the auspices of FIDE.
The lecturer was IA Serafin Chuit Perez (CUB), FIDE Lecturer and Assistant lecturer was IA Barbara Lopez Chavez Marino (CUB).
The lectures were in Spanish language.
15 people (11 women) from Panama, Venezuela, Cuba and Costa Rica participated in the Seminar.
All of them participated in the examination test, held after the end of the lectures and the following succeeded in the test and will be awarded a norm for the FIDE Arbiter title and after the approval of the next FIDE Presidential Board:
– Sarai Sanchez Castillo (VEN)
– Leonela Gutierrez (VEN)
– Yaniet Marrero Lopez (CUB)
– Agustin Cantillo Paz (PAN)
IA Panagiotis Nikolopoulos
Chairman
FIDE Arbiters' Commission