FIDE Arbiters' Seminar in Shamkir, AZERBAIJAN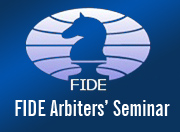 From 2 to 5 January 2014 a FIDE Arbiters' Seminar was organized in Shamkir, Azerbaijan, by the Azerbaijan Chess Federation, under auspices of FIDE.
The lecturer was IA Faik Gasanov (AZE), FIDE Lecturer and Assistant Lecturer was IA Gudrat Ismailov (AZE).
The lectures were in Russian language, with translation in to Azerbaijan.
Twenty (20) National Arbiters from Azerbaijan participated in the Seminar.
All of them participated in the examination test, held after the end of the lectures and the following succeeded in the test and will be awarded a norm for the FIDE Arbiter title and after the approval of the next FIDE Presidential Board:
| | | |
| --- | --- | --- |
| NAME | FIDE I.D. | FED. |
| Huseynova, Shirmaya | 13405004 | AZE |
| Ahmadov Humbat Mahammad | | AZE |
| Jafarov, Mahir | 13400088 | AZE |
| Gulieva Laman Aziz q. | | AZE |
| Javad-zada, Samir | 13400894 | AZE |
| Safarova, Saadat Zeynal q. | 13415158 | AZE |
| Aliyeva Jale Avaz | | AZE |
| Hajiyev, Aziz Farhad | 13404326 | AZE |
| Mardanov Donmaz Garyaghdi | | AZE |
| Suleymanova Gulnara Movsum | | AZE |
| Hasanov, Asif | 13400908 | AZE |
| Novruzov Tural Tahir | | AZE |
| Zuliyev Ilham | | AZE |
| Aliyev, Elmir | 13411250 | AZE |
| Sideifzade, Fikret | 13400150 | AZE |
| Gadjily, Raouf | 13400053 | AZE |
IA Panagiotis Nikolopoulos
Chairman
FIDE Arbiters' Commission