FIDE Arbiters' Seminar Sunningdale, England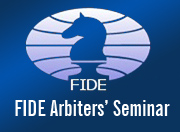 From 18th to 20th April 2014 a FIDE Arbiters' Seminar was organized in Sunningdale, England, by e2e4 Chess and the English Chess Federation, under the auspices of FIDE.
The venue of the Seminar was the De Vere Venues Sunningdale Park Hotel, Sunningdale, Berkshire, England.
The Lecturer was IA David Sedgwick (ENG), FIDE Lecturer, and the Assistant Lecturer was IA Sean Hewitt (ENG).
The lectures were in the English language.
3 people from England participated. The following succeeded in the examination test and will be awarded a norm for the title of FIDE Arbiter after the approval of the next FIDE Congress.
Name Federation FIDE I.D.
Carr, Matthew ENG 423971
Gliddon, Daniel ENG 415430
Thomas, David ENG 422410
IA Panagiotis Nikolopoulos
Chairman
FIDE Arbiters' Commission