FIDE ARBITERS' SEMINAR in Plovdiv, BULGARIA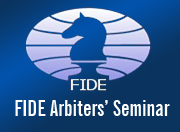 A FIDE Arbiters' Seminar is going to be organized from 4 to 7 February 2015 in Plovdiv, Bulgaria, by the Bulgarian Chess Federation and under the auspices of FIDE.
The venue of the Seminar will be the "NOVOTEL" Hotel, in Plovdiv.
The Lecturers will be IA Vladimir Sacotic (MNE) and IA Sava Stoisavljevic (SRB) and the Assistant Lecturers IA Rumen Angelov (BUL), IA Zdravko Nedev (BUL) and IA Nikolay Yordanov (BUL).
The language of the Seminar will be English, with translation to Bulgarian.
The Seminar will give FIDE Arbiter norms according to the Regulations for the titles of the Arbiters.
For more detailed information:
Maya Stoyanova, e-mail: federation@chessbg.com
tel.: 0035929300518
Fax: 0035929874522
(see application)