FIDE Arbiters' Seminar in Jakarta, INDONESIA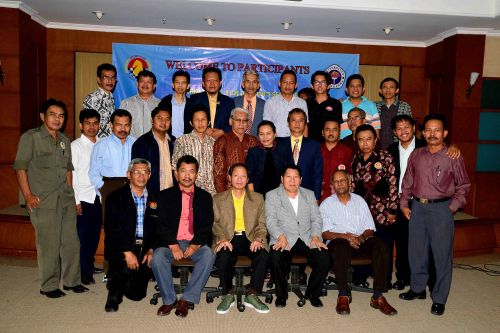 From 1 to 5 November 2014 a FIDE Arbiters' Seminar was organized in Jakarta, Indonesia, by the Indonesian Chess Federation and under the auspices of FIDE.
The Lecturer was IA Ignatius Leong (SIN), FIDE Lecturer, and Assistant Lecturers were IA Bunawan Bong (INA) and IA Hamid Majid (MAS).
The lectures were in the English language.
Twenty six (26) people from Indonesia participated in the Seminar and in the examination test held after the lectures. The following succeeded in the test and they will be awarded a FIDE Arbiter Norm, after the approval of the next FIDE Presidential Board:
NAME

F

IDE-ID

FED.

S

i

r

eg

a

rN

o

vian

7100647

INA

M.N

oo

rw

ac

h

id

S

o

ej

o

eti

7108419

INA

Bamb

a

ng

S

u

p

r

ihya

n

to

7107269

INA

Ma

r

u

d

ut

S

in

ag

a

7105720

INA

Wina

r

no

7108265

INA

Ba

r

n

a

sBayuTan

t

ular

7107714

INA

A

g

usMa

r

t

o

yo

7108290

INA

Ches

s

yP

r

ilaHa

r

ip

u

t

r

a

7108311

INA

S

u

p

a

r

to

7108354

INA

M

g

s.

F

aieq

F

ik

r

i

7108273

INA

J

o

nesH

u

ta

g

a

o

l

7108320

INA

Ret

n

oUtami

7108389

INA

Triatm

o

ko

7108281

INA

S

u

w

a

r

no

7108400

INA

P

r

ayit

n

o

7105886

INA

Jum

ar

iyan

t

o

7108427

INA

S

yamsul

H

a

r

i

7108257

INA

Pu

r

w

a

n

to

7108362

INA

Eko

D

jati

N

ugr

o

ho

7108370

INA

A

ngg

unN

ugr

o

ho

7108338

INA

JamesM.

S

ilalahi

7108346

INA

AamKusma

n

a

7108249

INA

Bamb

a

ng

S

a

n

t

o

so

7108117

INA
IA Panagiotis Nikolopoulos
Chairman
FIDE Arbiters' Commission