FIDE Arbiters' Seminar in Eybens, FRANCE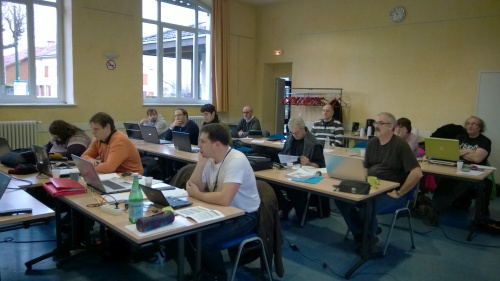 On 20 and 21 December 2014 a FIDE Arbiters' Seminar was organized in Eybens, France, by the French Chess Federation and under the auspices of FIDE.
The venue of the Seminar was the Maison des associations – 8 rue Jean Macé 38320, in Eybens.
The lecturer was IA Stephen Boyd (FRA), FIDE Lecturer and Assistant Lecturer was IA Laurent Freyd (FRA).
The lectures were in French language.
13 Arbiters from France participated in the Seminar and in the examination test, held after the end of the lectures and the following succeeded in the test and will be awarded a norm for the title or the FIDE Arbiter, after the approval of the next FIDE Presidential Board:
Last

Name

First

Name

FIDE

I.D.

F

ED.

SALLY

Paul-Adrien

662526

FRA

LAMORELLE

Julien

616010

FRA

MARIMON

Frédéric

26008483

FRA

SALLETTE

Alain

626570

FRA

CHERON

Stéphane

635464

FRA

MAGNIN

Guillaume

652792

FRA
IA Takis Nikolopoulos
Chairman
FIDE Arbiters' Commission