FIDE Arbiters' Seminar in Casablanca, MOROCCO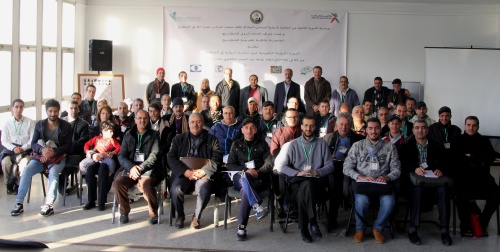 From 1 to 4 February 2015 a FIDE Arbiters' Seminar was organized in Casablanca, Morocco, by the Royal Morocco Chess Federation and under auspices of FIDE.
The venue of the Seminar was the Movenpick Hotel in Sana'a.
The lecturer was IA Mahdi Abdulrahim (UAE), Councilor of the FIDE Arbiters' Commission and FIDE Lecturer and Assistant Lecturers were IA Akkour Abdelfattah (MAR), Chairman of Morocco Arbiters' Council and IA Bechir Messaoudi (TUN).
The lectures were in Arabic language with translation in French.
Forty nine (49) National Arbiters from Morocco and Tunisia participated in the Seminar and forty seven (47) of them participated in the examination test, held after the end of the lectures.
The following succeeded in the test and will be awarded a norm of the FIDE Arbiter, after the approval of the next FIDE Presidential Board:
| | | |
| --- | --- | --- |
| Name | FIDE_ID | FED. |
| Miladi Ahed | 5507103 | TUN |
| Mqami ibrahim | 9005288 | MAR |
| Msiah Mustapha | 9002715 | MAR |
| Tarik Hajaj | 9004238 | MAR |
| Yahyaoui Ahmed | 9007296 | MAR |
| Alaissaoui Aziz | 9007164 | MAR |
| Amdouni Zoubaier | 5500419 | TUN |
| Ben Ammor Akram | 9002308 | MAR |
| Benfatah Abderrahman | 9000313 | MAR |
| Benyahya larbi | 9005153 | MAR |
| Bouzalem Mohamed | 9007229 | MAR |
| Soutrani Mokhtar | 9007008 | MAR |
| Almoukhlis Abdelkrim | 9007172 | MAR |
| Boutarbouch Salma | 9007210 | MAR |
| El mrabat Adil | 9007237 | MAR |
| Kallel Monia | 5507081 | TUN |
| Margoum Mustapha | 9007270 | MAR |
| Messala Jamal | 9000682 | MAR |
| Rrghiuoi Lahoussine | 9002871 | MAR |
| Elaouni Said | 9002812 | MAR |
| Jdiyou Said | 9002820 | MAR |
| Merzougui Abdouh Hassan | 9005951 | MAR |
| Nafri Said | 9001280 | MAR |
| Bouflija Hedi | 5500370 | TUN |
| El mokhtari Salhi | 9002782 | MAR |
| Bamous Amina | 9007180 | MAR |
| Najem Mohamed | 9004343 | MAR |
| Tarafi Said | 9007288 | MAR |
| Karkazi Aziz | 9005358 | MAR |
| Zenaidi Kaiss | 5500206 | TUN |
| Sour Mustapha | 9000844 | MAR |
| Achtouk Abdelouahed | 9007016 | MAR |
| Fahli Rachid | 9000542 | MAR |
| Admi Mohammed | 9007156 | MAR |
| Bennis Mohamed | 9007199 | MAR |
| Boumadi El houssine | 9007202 | MAR |
| Mouini Abdelkader | 9001905 | MAR |
IA Takis Nikolopoulos
Chairman
FIDE Arbiters' Commission