FIDE Arbiters' Seminar in Plovdiv, BULGARIA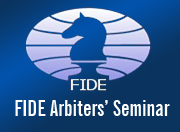 From 4 to 7 February 2015 a FIDE Arbiters' Seminar was organized in Plovdiv, Bulgaria by the Bulgarian Chess Federation.
The venue of the Seminar was the Business room of Hotel "Novotel"
The lecturers were IA Vladimir Sakotic (MNE) and IA Sava Stoisavljevic (SRB) and the Assistant Lecturers were IA Zdravko Nedev (Bulgaria), IA Rumen Angelov (Bulgaria) and IA Nikolay Yordanov (Bulgaria).
The lectures were in the English language with Bulgarian translations when necessary.
17 people from 3 Federations (BUL, MKD and NED) participated in the Seminar.
All of them participated in the examination test, held after the end of the lectures and the following succeeded in the test and will be awarded a norm or the FIDE Arbiter title and after the approval of the next FIDE Presidential Board:
| | | |
| --- | --- | --- |
| NAME, SURNAME | FIDE ID | FED |
| Marin Atanasov | 2911396 | BUL |
| Gerard De Lange | 1023721 | NED |
| Dejan Dimitrov | 2911000 | BUL |
| Vasil Kolev | 2907844 | BUL |
| Sasko Lakinski | 15001296 | MKD |
| Ani Maneva | 2902354 | BUL |
| Petyo Marinov | 2912449 | BUL |
| Plamen Stefanov | 2916746 | BUL |
| Boryana Strokova | 2919176 | BUL |
| Petar G.Todorov | 2903385 | BUL |
| Boyan Tonkov | 2900491 | BUL |
| Maria Velcheva | 2903210 | BUL |
| Simeon Vinchev | – | BUL |
IA Takis Nikolopoulos
Chairman
FIDE Arbiters' Commission