FIDE Arbiters' Seminar in Kuwait City, KUWAIT

From 16 to 20 August 2015 a FIDE Arbiters' Seminar was organized in Kuwait City, Kuwait, by the Kuwait Chess Federation, in cooperation with Abdulla Al-Salem Centre for Leadership Training and under the auspices of FIDE.
The lecturer was IA Mahdi Abdulrahim (UAE), Councilor of the FIDE Arbiters' Commission and FIDE Lecturer and Assistant Lecturers were IA Hassan Ramadan (KUW) President of Kuwait Chess Federation.
The lectures were in Arabic language.
Eighteen (18) people from Kuwait, Jordan and Lebanon participated in the Seminar and thirteen (13) of them participated in the examination test, held after the end of the lectures.
The following succeeded in the test and will be awarded a norm of the FIDE Arbiter, after the approval of the next FIDE Congress:
NAME

F

ED

.

F

IDE

I

.

D

.

Hussain, Hashem

KUW

10300716

Malkawi, Fadi

JOR

8100420

Alrasheed, Abeer

KUW

10300813

Alawadhi, Amenah

KUW

10301100

Bekheet, Suhailah

KUW

10301216

Alajmi, Abdulrahman

KUW

10300740

Al-Ramadan, Nadya

KUW

10300678

Alsharhan, Musaed

KUW

10300694

El Hossari, Machaal

LIB

5304733

Alathari, Yaqoub

KUW

10301364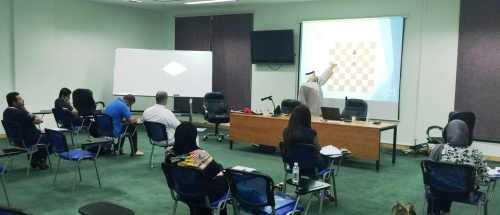 IA Takis Nikolopoulos
Chairman
FIDE Arbiters' Commission