FIDE Arbiters' Seminar in Preston, England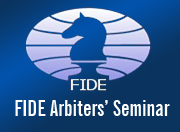 From 11th to 13th September 2015 a FIDE Arbiters' Seminar was organized in Preston, England, by the UK Chess Arbiters' Association, in association with the English Chess Federation and the Chess Scotland and under the auspices of FIDE.
The venue of the Seminar was the Legacy Preston International Hotel, Marsh Lane, Preston, ENGLAND, PR1 2FY
The Lecturer was IA David Welch (ENG), FIDE Lecturer, and the Assistant Lecturer was IA Lara Barnes (ENG).
The lectures were in the English language.
Nine (9) people from England participated in the Seminar and eight (8) off them participated in the examination test held after the lectures.
The following succeeded in the examination test and will be awarded a norm for the title of FIDE Arbiter after the approval of the next FIDE Presidential Board:
Name Fed FIDE ID
David Clayton ENG 448613
David Deary SCO 2404362
Mike Forster ENG 400785
Geoff Gammon ENG 431141
Phil Thomas SCO 2402106
John Thornton WLS 1800663
Robert Tinton ENG 448516
Rona Wishart SCO –
IA Takis Nikolopoulos
Chairman
FIDE Arbiters' Commission