FIDE Arbiters' Seminar in Bishkek, KYRGYZSTAN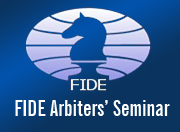 From 2 to 4 October 2015 a FIDE Arbiters' Seminar was organized in Bishkek, Kyrgyzstan, by the Kyrgyzstan Chess Federation, in cooperation with the Asian Chess Federation and under the auspices of FIDE.
The venue of the Seminar was the Jannat regency Hotel (5*).
The lecturer was IA Ashot Vardapetyan (ARM), FIDE Rules Commission Chairman and FIDE Lecturer and Assistant Lecturer was IA Husan Turdialiev (UZB), FIDE Lecturer.
The lectures were in Russian language.
Thirty one (31) Arbiters from Kyrgyzstan and Uzbekistan participated in the Seminar. Sixteen (16) of them participated in the examination test, held after the end of the lectures and the following succeeded in the test and will be awarded a norm for the FIDE Arbiter title and after the approval of the next FIDE Presidential Board:
NAME FED FIDE I.D
———————————————————————
Isakzhanov, Baktybek KGZ 13801821
Morozov, Alexandr KGZ 13800906
Sapar, Emelbeg KGZ 13800132
Shyngyz Kyzy, Aijarkyn KGZ 13800531
Tilenvaeva, Baktygul KGZ 13800639
Vahidov, Behzod UZB 14203650
IA Takis Nikolopoulos
Chairman
FIDE Arbiters' Commission