FIDE Arbiters' Seminar in Dili. TIMOR-LESTE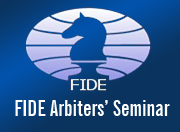 From 15 to 17 December 2015 a FIDE Arbiters' Seminar was organized in Dili, Timor-Leste, by the Asian Chess Federation, in cooperation with the Timor-Leste Chess Federation and under the auspices of FIDE.
The Lecturer was IA Bunawan Bong (INA), FIDE Lecturer
The lectures were in the English language.
Thirty two (32) people from Timor-Leste participated in the Seminar and in the examination test held after the lectures.
The following succeeded in the test and they will be awarded the FIDE Arbiter Title, after the approval of the next FIDE Presidential Board:
Verdial, Romeo (TLS) 31900461
Dos Reis, Tito (TLS) 31900291
Viegas, Antonio (TLS) 31900429
D'Araujo, Frumencio (TLS) 31900526
Guterres, Luis (TLS) 31900232
Tilman, Mario (TLS) 31900070
Jeronimo, Augusto (TLS) 31900380
Lopes, Joao (TLS) 31900313
Maria, Apolinario (TLS) 31900402
Fernandes de Carvalho, Paulo (TLS) 31900259
Americo, Joao (TLS) 31900356
Martins, Armando (TLS) 31900372
Santana, Ervira (TLS) 31900283
Fernandes, Jose (TLS) 31900569 * (18 years old, the title will be awarded when he will be 21)
Reis, Joviano (TLS) 31900437
Fernandes, Tomas (TLS) 31900097
Madalena, Rute (TLS) 31900470
Monteiro, Jose (TLS) 31900364
Tilman, Maria (TLS) 31900275
De Almeida, Ricardo (TLS) 31900399
Monteiro, Roselio (TLS) 31900410
Sarmento, Saturnino (TLS) 31900453
Lobo, Antonio (TLS) 31900267
Hula-Muda, Ana (TLS) 31900577
Cardoso, Saula (TLS) 31900062
IA Takis Nikolopoulos
Chairman
FIDE Arbiters' Commission