FIDE ARBITERS' SEMINAR in Benasque (Huesca), SPAIN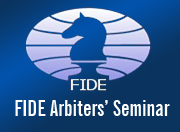 A FIDE Arbiters' Seminar is going to be organized from 7 to 10 July 2016 in Benasque (Huesca), Spain, by the Spanish Chess Federation, in cooperation with the Organizers of the Benasque Open Tournament and under the auspices of FIDE.
The Lecturer will be IA Jesus Mena Sarasola (ESP), Councilor of FIDE Arbiters' Commission and FIDE Lecturer.
The venue of the Seminar will be the Hotel Aneto, in Benasque.
The language of the Seminar will be Spanish.
The Seminar will give FIDE Arbiter norms and titles, according to the Regulations for the titles of the Arbiters.
For more detailed information:
Mairelys Delgado Crespo: Tel.: (+34) 616 76 94 56, (+34) 974 41 70 05
E-mail: openajedrezbenasque@gmail.com
(see application)