FIDE Arbiters' Seminar in Birmingham, England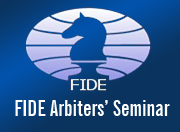 From 29th to 31st January 2016 a FIDE Arbiters' Seminar was organized in Birmingham, England, by the Four Nations Chess League, in conjunction with the English Chess Federation and under the auspices of FIDE.
The venue of the Seminar was the Holiday Inn Hotel, in Birmingham Airport.
The Lecturer was IA Alex McFarlane (SCO), FIDE Lecturer and the Assistant Lecturer was IA Lara Barnes (ENG).
The lectures were in the English language.
Thirteen (13) people from England, Wales and Spain participated in the Seminar and in the examination test held after the lectures.
The following succeeded in the examination test and will be awarded a norm for the title of FIDE Arbiter after the approval of the next FIDE Presidential Board:
NAME FIDE I.D. FED.
—————————————————————-
Alan Atkinson – ENG
Sabrina Chevannes 411280 ENG
Loz Cooper 401536 ENG
Michael Cresswell 470139 ENG
Tim Dickinson 405728 ENG
Phil Ehr 439150 ENG
Adrian Elwin 411450 ENG
Silverio Fernandez 2255901 ESP
Jennifer Goldsmith 431001 ENG
Tony Tatam 429473 ENG
Tom Thorpe 1802437 WLS
IA Takis Nikolopoulos
Chairman
FIDE Arbiters' Commission