FIDE Arbiters' Seminar in Rijeka, Croatia Print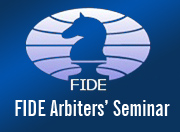 From 09 to 12 November 2010 a FIDE Arbiters' Seminar was organized in Rijeka, Croatia, by the FIDE Arbiters' Commission, in cooperation with the Chess Federation of Croatia and Chess Club "Rijeka" and under auspices of FIDE.
The venue of the Seminar was conference room of Chess Club "Rijeka" Rijeka.
The lecturers were IA Vladimir Sakotic (MNE) and IA Sava Stoisavljevic (SRB).
IA Vladimir Cvetnic was assistant appointed by Chess Federation of Croatia.
The lectures were in English language.
Lecturers lectured in detail of Laws of Chess, Rating and Title regulations, Tournament regulations, Swiss Pairings as well as all topics recommended to the courses for the Arbiters' Seminars with case studies on all the topics. All participants were very active during classes and some of them presented high knowledge on particular topics.
9 people from 5 Federations (CRO, BiH, SRB, SLO and ESP) participated in the Seminar. All of them participated in the examination test, held after the end of the lectures and the following six (6) succeeded in the test and will be awarded a norm or the FIDE Arbiter title (according to the art. 3.10 of the Regulations of the titles of Arbiters) and after the approval of the next FIDE Presidential Board:
Aleksandra Dimitrijevic (BIH)
Ivan Grbic (BIH)
Bojan Birk (CRO)
Ana Srebrnic (SLO)
Sasa Jevtic (SRB)
Jesus Garcia Valer (ESP)
IA Vladimir Sakotic
IA Sava Stoisavljevic