FIDE Arbiters' Seminar in Abu Dhabi, UAE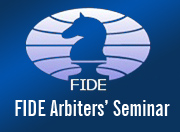 A FIDE Arbiters' Seminar is going to be organized from 13 to 16 December 2010 in Abu Dhabi, UAE, by the Abu Dhabi Chess Club, in cooperation with the Sports Care Program and the UAE Chess Federation and under the auspices of FIDE.

The Lecturers will be IA/IO Mahdi Abdulrahim (UAE), Councilor of the FIDE Arbiters' Commission and IA/IO Casto Abundo (PHI), Deputy President of the Asian Chess federation.
The languages of the Seminar will be English and Arabic.
For more detailed information:
IA/IO Casto Abundo: casto.abundo@gmail.com