FIDE Arbiters' Seminar in Abu Dhabi, UAE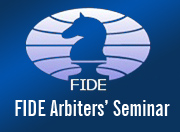 From 13 to 16 December 2010 a FIDE Arbiters' Seminar was organized in Abu Dhabi, UAE, by the Abu Dhabi Chess Club, in cooperation with the Sports Care Program and the UAE Chess Federation and under the auspices of FIDE.
The lecturers were IA Mahdi Abdulrahim (UAE), Councilor of the FIDE Arbiters' Commission and IA Casto Abundo (PHI), Deputy President of the Asian Chess Federation.
The language of the Seminar was English and Arabic.
24 people from seven different Federations participated in the seminar.
All of them participated in the examination test, held after the end of the lectures.
The following thirteen (13) succeeded in the test and will be awarded the title of the FIDE Arbiter (according the article 3.10 of the Regulations for the titles of the arbiters) or a norm for the FIDE Arbiter title, after the approval of the next FIDE Congress:
Marwa Fawzy (EGY) FA Norm
Najoua Hidri (TUN) FA Title
Nawal Bashir (SUD) FA Title
Saeed Khuri (UAE) FA Norm
Rania Abdulrahman (EGY) FA Norm
Omar Al Tamimi (UAE) FA Norm
Mansoor Al Tamimi (UAE) FA Norm
Jaber Khaled Qasim (UAE) FA Norm
Yousef Al Marzooqi (UAE) FA Norm
Salem Al Hosani (UAE) FA Norm
Hind Mashaan (SYR) FA Title
Nadia Fathy (EGY) FA Norm
Marwa Mohamed (EGY) FA Title
IA Panagiotis Nikolopoulos
Chairman
FIDE Arbiters' Commission