FIDE ARBITERS' SEMINAR in Lyon, FRANCE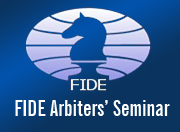 A FIDE Arbiters' Seminar is going to be organized on 15 and 16 October 2016 in Lyon, France, by the French Chess Federation National Arbiters Commission and the Lyon Olympique Echecs, in cooperation with the French Chess Federation and under the auspice of FIDE.
The Lecturer will be IA Laurent Freyd (FRA), FIDE Lecturer and the Assistant Lecturer will be IA Stephen Boyd (FRA).
The language of the Seminar will be French.
The Seminar will give norms for the FIDE Arbiter title according to the Regulations for the titles of the Arbiters.
For more detailed information:
IA Laurent Freyd – e-mail: lfreyd@free.fr
tel.: 06 22 31 76 10
(see application)