FIDE Arbiters' Seminar in Ouagadougou, Burkina Faso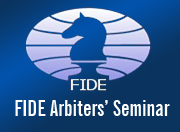 From 23 to 27 September 2016 a FIDE Arbiters' Seminar was organized in Ouagadougou, Burkina Faso, by the CNBE "Comité National Burkinabé des Echecs", in cooperation with FIDE, FIDE Arbiters' Commission and African Chess confederation.
The venue of the Seminar was the Centre d'Accueil Notre Dame de Lorette, in Ouagadougou.
The lecturer was IA Bechir Messaoudi (TUN), FIDE Lecturer and Assistant Lecturer was IA Enyonam Sewa Fumey (TOG).
Twenty (20) Chess Arbiters from Burkina Faso, Togo and Mali attended the seminar and participated in the examination test, held after the end of the lectures.
The following succeeded in the test and will be awarded a norm or the title of the FIDE Arbiter, after the approval of the next FIDE Presidential Board:
N

AME

FIRST NAME

FIDE I.D.

F

ED.

NOTE

OKORO

Mubarak

21200483

TOG

FA Norm

AMEWOUNOU

Komlan

21200017

TOG

FA Norm

MEVI

Mireille

22004564

B

UR

FA Title

OUEDRAOGO

Arnaud S.

22000135

B

UR

FA Title

AGBODO

Koukouvi Daglo

21200122

TOG

FA Norm

HASSEYE

Alhousseyni

19800045

MLI

FA Title

KABORE

Ousseni

22004556

B

UR

FA Title

KADOUNO

Drissa

19800223

MLI

FA Title

TUINA

Tianvo

22004645

B

UR

FA Title

NARE

Stanislas

22004572

B

UR

FA Title
IA Takis Nikolopoulos
Chairman
FIDE Arbiters' Commission