FIDE ARBITERS' SEMINAR in Khartoum, SUDAN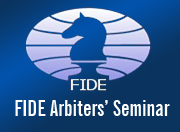 A FIDE Arbiters' Seminar is going to be organized from 2 to 6 November 2016 in Khartoum, Sudan, by the Sudan Chess Federation, in cooperation with the Arab Chess Federation and under the auspices of FIDE.
The Lecturer will be IA Hassan Khaled (EGY), FIDE Lecturer and Assistant Lecturer will be FA Omer Musa (SUD).
The venue of the Seminar will be the Chess Federation Hall in Khartoum.
The language of the Seminar will be Arabic and English.
The Seminar will give FIDE Arbiter norms and titles, according to the Regulations for the titles of the Arbiters.
For more detailed information:
Sudan Chess Federation, e-mail: sudanchessfed@yahoo.com
Tel.: +249912344053, +249912611565
Mr. Ali Rashid, e-mail: milliar.w.s.c@gmail.com
Tel.: +249912315560
(see application)