FIDE Arbiters' Seminar in Tunis (Monastir), TUNISIA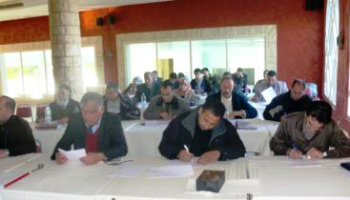 From 21 to 27 December 2010 a FIDE Arbiters' Seminar was organized in Tunis (Monastir), Tunisia, by the Tunisian Chess Federation, in cooperation with the Arab Chess Union and under auspices of FIDE.
The lecturer was IA Mahdi Abdulrahim (UAE), Councilor of the FIDE Arbiters' Commission, and Assistant Lecturer was IA Bechir Bessaoudi (TUN).
42 people from Algeria, Libya, Qatar, Iraq, Egypt and Tunisia participated in the seminar.
38 of them participated in the examination test, held after the end of the lectures.
The following twenty (23) succeeded in the test and will be awarded a norm or the title of the FIDE Arbiter, according to the article 3.10 of the Regulations for the titles of the Arbiters and after the approval of the next FIDE Presidential Board:
| | | | | | |
| --- | --- | --- | --- | --- | --- |
| Last name | First name | Fide Id | FED. | Sex | Norm/Title |
| HAMOUDA | Salam | | TUN | M | Title FA |
| SLOUKOUM | Messaoud | | TUN | M | Title FA |
| BOUZIR | Khelifa | | TUN | M | Title FA |
| MARZOUK | Amira | 5501148 | TUN | F | Title FA |
| MRAD | Nebil | 5502802 | TUN | M | Title FA |
| BEN SAID | Hamda | | TUN | M | Title FA |
| MAJDOUB | Sofien | | TUN | M | Title FA |
| WADA | Nebil | 5502853 | TUN | M | Title FA |
| MALKI | Mounir Mustapha | 5502772 | TUN | M | Title FA |
| HAYOUNI | Yahia | | TUN | M | Title FA |
| AYED | Abdallah | 5501806 | TUN | M | Title FA |
| JEMAI | Akram | 5500591 | TUN | M | Title FA |
| MATOUSSI | Amina | 5501164 | TUN | F | Title FA |
| CHERIF | Mondher | | TUN | M | Title FA |
| AL-YAQOUB | Maryam | | QAT | M | Title FA |
| ALAKRUT | Fathi Mokhtar | 9201297 | LBA | M | Title FA |
| ZOBIDA | Saeid Tbuot | | LBA | M | Title FA |
| BEN YAMINA | Ali | 7902638 | ALG | M | Title FA |
| OUARET | Fatsah | | ALG | M | Title FA |
| DLZAR | Hama Salih Qadir | | IRQ | M | Norm FA |
| KHALEL | Ali Abdulkarem | | IRQ | M | Norm FA |
| MOHSEN | Sundes | 4802802 | IRQ | F | Norm FA |
| KHUDHAIR | Shuaib Adham | | IRQ | M | Norm FA |
IA Panagiotis Nikolopoulos
Chairman
FIDE Arbiters' Commission