FIDE Arbiters' Seminar in Riyadh, SAUDI ARABIA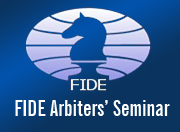 From 14 to 17 April 2017 a FIDE Arbiters' Seminar was organized in Riyadh, Saudi Arabia, by the Saudi Chess Association, in cooperation with the Asian Chess Federation and under auspices of FIDE.
The Lecturer of the seminar was IA Yaser Motlaq Al Otaibi (KSA), FIDE Lecturer and Assistant Lecturer was FA Ahmed Agami (EGY).
The venue of the Seminar was the Mira Hotel in Riyadh.
The lectures were in Arabic language with translation into English.
Sixteen (16) people from Saudi Arabia, Yemen, Jordan, Sudan, Syria and Egypt participated in the Seminar and all of them participated in the examination test, held after the end of the lectures.
The following succeeded in the test and they will be awarded a norm for the title of the FIDE Arbiter, after the approval of the next FIDE Presidential Board or Congress:
Name

F

IDE

I.

D.

Federation

Aref Sufyan

9402837

YEM

Almustafa, Tareq

JOR

Emad, Tania

(F)

8102007

JOR

Alharthi, Wael

21511098

KSA

Mohammed, Mamdooh Shaban

10639225

EGY

Alqarni, Ali A

21511764

KSA

Nacim,Lazkani

7605587

SYR

Fathi, Ali

JOR

Haikal, Mohammed M

7604939

SYR

Abokamel, Feras

21511756

SYR

AbduljaIil, Tamer M

10642773

EGY

Alsafi, Osama

SUD
IA Takis Nikolopoulos
Chairman
FIDE Arbiters' Commission