50th INTERNET based FIDE Arbiters' Seminar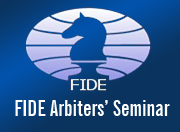 From 8 to 12 May 2017 the 50th Internet based FIDE Arbiters' Seminar was held, organized by the ARAB CHESS FEDERATION and under the auspices of FIDE.
The lecturer of the Seminar was IA Mahdi Abdulrahim (UAE), Councilor of the FIDE Arbiters' Commission and FIDE Lecturer.
Technical Organizer was IA Mihail Prevenios (GRE), FIDE Lecturer.
The language of the Seminar was Arabic.
Twenty one (21) people from nine (9) Federations (ALG, EGY, IRQ, KSA, LBA, OMA, PLE, JOR and UAE) attended the seminar on Internet and seventeen (17) of them participated in the on line examination test.
The following succeeded in the test and will be awarded a norm for the title of FIDE Arbiter, after the approval of the next FIDE Presidential Board:
N

AME

F

ED

F

IDE

ID

B

ir

Boubekar

ALG

7903014

Azad Sabir Hussain

IRQ

4808177

Pashtiwan Ahmed Shekh Hamad

IRQ

4808193

Amer, Ahmed Dhiab

IRQ

4808320

Delshad, Ismail

IRQ

4801830

Ababneh, Ghayth

JOR

8101043

Elnaami, Hashem A.k.

LBA

9201262

Al Rashdi, Younis

OMA

22000720

Al-Takrori, Husam

PLE

11501243

Dawabsha Ameer

PLE

11503688

Alqawasme Wadee

PLE

11502657

A

karnih,EmadAlden

PLE

11504641

Serag El Din, Moheb

EGY

10628118

Nader

R

emawi

PLE

11506431
IA Takis Nikolopoulos
Chairman
FIDE Arbiters' Commission