FIDE Arbiters' Seminar in Kuala Lumpur, MALAYSIA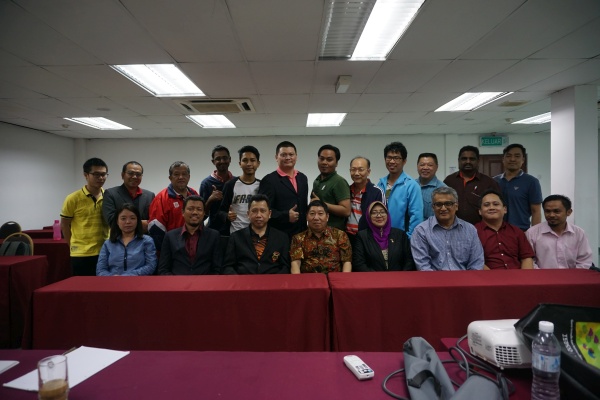 From 13 to 15 May 2017 a FIDE Arbiters' Seminar was organized in Kuala Lumpur, Malaysia, by the Malaysian Chess Federation, in cooperation with the Asian Chess Federation and under the auspices of FIDE.
The Lecturer was IA Bunawan Bong (INA), FIDE Lecturer, and Assistant Lecturer was IA Madhavan, Collin (INA).
The lectures were in the English language.
Eighteen (18) National Arbiters from Malaysia participated in the Seminar and in the examination test held after the lectures.
The following succeeded in the test and they will be awarded a FIDE Arbiter Norm, after the approval of the next FIDE Presidential Board:
| | | |
| --- | --- | --- |
| NAME | FED | FIDE ID |
| Goh, Jit Siang | MAS | 5740100 |
| Leong, Evelyn | MAS | 5708044 |
| Lucas, Charles | MAS | 5704367 |
| Sairi, Hamdan | MAS | 5706467 |
| Mohd Amin, Abdur Rahman | MAS | 5729459 |
| Mohd Fazrizal Mohd Ropi | MAS | 5742471 |
| Thiagarajoo, Kumaressan | MAS | 5727588 |
| So Shan Ying | MAS | 5742463 |
| Ruslan, Haslindah | MAS | 5702658 |
| Dinesh Gerijan | MAS | 5734410 |
| Tham, Tick Hong Jax | MAS | 5701279 |
| Mohd Sukifli Ali | MAS | 5742480 |
| Lim See Pay | MAS | 5742455 |
| Ahmad Rostam, Ahmad Izzuddin | MAS | 5727731 |
| Chong, Yong Soon | MAS | 5717612 |
| Zakaria, Mohd Fadli | MAS | 5700558 |
IA Takis Nikolopoulos
Chairman
FIDE Arbiters' Commission