FIDE Arbiters' Seminar in Cebu City, PHILIPPINES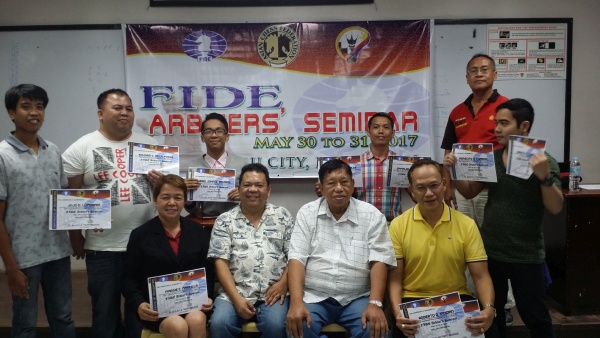 From 30 to 31 May 2017 a FIDE Arbiters' Seminar was organized in Cebu City, Philippines, by the National Chess Federation of Philippines in cooperation with the Asian Chess Federation and under auspices of FIDE.
The lecturer was IA Casto Abundo (PHI), FIDE Lecturer.
The lectures were in English language.
Nine (9) people from Philippines participated in the Seminar
Seven (7) of them participated in the examination test, held after the end of the lectures and the following succeeded in the test and will be awarded a norm for the FIDE Arbiter title and after the approval of the FIDE Presidential Board:
| | | |
| --- | --- | --- |
| FIDE ID | NAME | FED |
| 5228808 | JEREL JOHN D. VELARDE | PHI |
| 5216281 | GAMALIEL G. GONZALES | PHI |
| 5228816 | ARMECITO O. LUMBAB | PHI |
| 5228824 | ROBERTO D. INOCIAN | PHI |
| 5228840 | JOJO D. LUMBANIA | PHI |
| 5228859 | EDUARD DELA TORRE | PHI |
| 5228832 | MARGIE C. NARCILLA | PHI |
IA Takis Nikolopoulos
Chairman
FIDE Arbiters' Commission