FIDE Arbiters' Seminar in Anzali, IRAN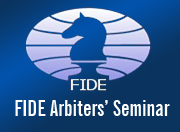 From 14 to 18 July 2017 a FIDE Arbiters' Seminar was organized in Anzali, Iran, by the Iranian Chess Federation and under the auspices of FIDE.
The lecturer of the Seminar was IA Mehrdad Pahlevanzadeh (IRI), FIDE Lecturer and Assistant Lecturer was IA Shohreh Bayat (IRI).
The language of the Seminar was English, with translation in to Persian.
Twenty five (25) Arbiters from Iran attended the seminar and all of them participated in the examination test held after the lectures.
The following succeeded in the test and will be awarded a norm or the title of the FIDE Arbiter, after the approval of the next FIDE Congress:
| | | |
| --- | --- | --- |
| FED. | FIDE ID | Name |
| IRI | 12513180 | Bahari Rad, Alireza |
| IRI | 12511170 | Mozafar, Milad |
| IRI | 12500623 | Mousavi, Sayed Milad |
| IRI | 12527890 | Ghorbani, Bahareh |
| IRI | 12563803 | Bepooyi, Mohammadali |
| IRI | 22560017 | Rahimibashar, Mohammadreza |
| IRI | 12551996 | Masoumi, Amirhossein |
| IRI | 12511080 | Molaei, Mohammad Kouzekanan |
| IRI | 12589292 | Gheysaryeha, Shahla |
| IRI | 12589616 | Imanian, Farzaneh |
| IRI | 12525308 | Paknia, Ehsan |
| IRI | 22514210 | Cheshm Alous, Shahram |
| IRI | 12520926 | Soleimanipour, Mahboobeh |
| IRI | 42505712 | Moslehi, Nima |
| IRI | 22567267 | Nikookar, Mohammad |
| IRI | 42501229 | Bayat, Leila |
| IRI | 12520152 | Jafari, Raheleh |
| IRI | 12578789 | Moslemi, Mohammadreza |
| IRI | 12578738 | Kalhori, Simin |
IA Takis Nikolopoulos
Chairman
FIDE Arbiters' Commission