FIDE Arbiters' Seminar in Davao, PHILIPPINES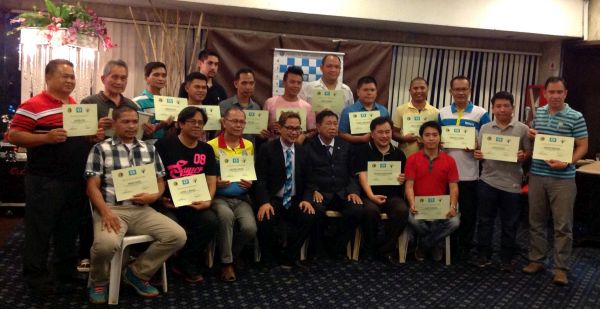 From 12 to 13 August 2017 a FIDE Arbiters' Seminar was organized in Davao City, Philippines by the National Chess Federation of the Philippines, in cooperation with the Asian Chess Federation and under the auspices of FIDE.
The Lecturer was IA Casto Abundo (PHI), FIDE Lecturer and Assistant Lecturer was IA James Infiesto (PHI).
The lectures were in the English language.
Eighteen (18) students from Philippines participated in the Seminar and in the examination test held after the lectures.
The following succeeded in the test and they will be awarded a FIDE Arbiter Norm, after the approval of the next FIDE Congress:
N

AME

F

ED.

FIDE I

.

D

.

Jose L. Barba Jr.

PHI

5229065

Antonio Aladino H. Diez

PHI

5229073

Edgar Martin Lopez de Anda

USA

30941539

Cecilio Acas

PHI

5229081

Rockey P. Pagkaliwagan

PHI

5229090

Alfred C. Moulic

PHI

5229103

Darwin D. Bermudez

PHI

5229111

Mark John T. Gastar

PHI

5229138

Jun T. Uka

PHI

5229120

Lorenzo E. Dagum

PHI

5229146

Euliser A. Cano

PHI

5229154

Lloyd A. Dalayap Ph.D

PHI

5229162

Armad A. Sucol

PHI

5229170

Cyrus E. Damasco

PHI

5229189

Cantilado A. Renan

PHI

5229197

Gilberto Aceron

PHI

5229200

Juljirin T. Juripae

PHI

5229219

Geodel S. Juripae

PHI

5229227
IA Takis Nikolopoulos
Chairman
FIDE Arbiters' Commission