FIDE ARBITERS' SEMINAR in Abidjan, COTE D' IVOIRE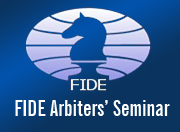 A FIDE Arbiters' Seminar is going to be organized from 26 to 29 October 2017 in Abidjan, Cote d' Ivoire, by the Cote d' Ivoire Chess Federation and under the auspice of FIDE.
The Lecturer will be IA Stephen Boyd (FRA), FIDE Lecturer and the Assistant Lecturer will be IA Lekan Adeyemi (NGR).
The venue of the Seminar will be the Olympic Village for the Francophone Games, in Abidjan.
The language of the Seminar will be English and French.
The Seminar will give norms for the FIDE Arbiter title according to the Regulations for the titles of the Arbiters.
For more detailed information:
Mr. Privat Kouakou, Director General, FIDEC:
E-mail: dgfidec@gmail.com:
Tel: +255 07 803 411
(see application)